OKCEL: Humane Medicine and Surgery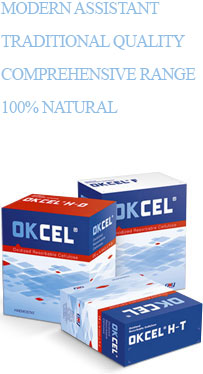 Business Unit BU Oxycellulose, as part of SBU Nitrocellulose, which is one of the strategic business units of Synthesia, a.s, is a direct leading Czech manufacturer of oxidized cellulose based haemostatic products, with more than 20 years of experience.
Our product portfolio can be divided into two main groups.
Products of flat forms are professional haemostatics serving to control the bleeding in the internal environment of the human body during various extensive surgery procedures. Hemostasis is achieved within 3 minutes and the products are fully absorbed within maximum 21 days without any residues.
Powder products are semi-products for manufacturing the final haemostatics in forms of spray or films with different functions.
Team of BU Oxycellulose also offers the possibility of adjusting the parameters of products in cooperation with a research institute VÚOS.